France vs Belgium – Les Bleus preparations ahead of border clash
With Belgium eagerly anticipating their match with their neighbours on Tuesday night, it's only fair to see how the strong opposition is getting on. After an uninspiring win against Jurgen Klinsmann's US team, Laurent Blanc could well be looking for a reaction. Freelance French football journalist Jonathan Johnson of French Football Weekly gives us an insight into the French camp's preparations.
Belgium's friendly match against France tomorrow night has taken on added importance to one member of Les Diables Rouges who currently plys his trade in France. Eden Hazard, Ligue 1's wonderkid and currently one of Europe's most sought-after players is in line to start against a host of familiar faces and the outrageously talented 20-year old has been looking forward to this occasion for some time.
"It's a special occasion because I've lived and played in France for seven years now," said Hazard who did not feature in Belgium's 2-1 win over Romania on Friday night. "It's also special because I'll be up against opponents like Adil (Rami-formerly of Lille), who I've played alongside at club level."
The youngster who has been the centre of attention lately in Ligue 1 given the speculation surrounding his future has enjoyed a good record in France's national stadium so far because of its use by Lille for big matches to accommodate more fans. It is one he hopes will continue past this match but the gifted playmaker insists the match is all about having fun and savouring the moment.
"Otherwise it's a match like any other. I hope to put in a good performance and above all enjoy myself." Hazard, who will be earning his 25th cap for his country went on to say: "In my career, I've played twice at the Stade de France and I was on the winning side on both occasions."
Beating Les Bleus at the Stade de France however is no easy task and Laurent Blanc's charges will be eager to put in a more impressive performance than that shown against USA on Friday night despite being in the middle of an impressive 16-game unbeaten run.  The side that faced the U.S. was an experimental selection that was dominated by Ligue 1 talent and lined up in an enterprising 4-4-2 formation that featured four attackers.
The new faces that featured during the 90 minutes were Montpellier's goal machine Olivier Giroud, Arsenal centre-back Laurent Koscielny, Lyon's promising midfielder Maxime Gonalons and Valencia's Jeremy Mathieu who all fared well despite the at times frustrating performance. Although the victory was encouraging for Laurent Blanc who was delighted to see some of his new additions find their feet very quickly, he knows that Belgium will give his team a much more difficult task.
"The four players who made their debuts performed well but I'd rather focus on the collective performance. It is one more victory. We played with four attacking players in the first half. I am satisfied with the way in which we dominated possession, but we didn't do enough going forward. We could have scored more goals if we had made better decisions.
Blanc also added about his team's performance: "In the first-half, our opponents did a lot of chasing after the ball and got tired out. The players knew what we wanted from them and they knew there would be changes in the second-half. The ones that came on didn't panic, and spaces opened up for us. But the fact that you have four attacking players on the pitch doesn't necessarily mean you are going to score more goals."
The Belgium game represents a great opportunity for France to really put in a strong performance and to convince the French public of the side's credibility but nobody will be looking forward to the game more than la Paillade's hot-shot Giroud who is eager to make up for a disappointing miss in the closing stages against Jurgen Klinsmann's side.
"It was really emotional and it is great to have won my first cap" said Ligue 1's current leading goalscorer. "I did ok when I came on, although I was expecting to score with that great chance I had at the end. I wasn't sure whether to shoot or try and square it for Loic (Rémy). It wasn't to be but I'll have to just move on. Hopefully I will get some playing time on Tuesday to enable me to make up for it."
As well as Giroud a number of other fringe players will be looking to impress and Belgium can expect to face a side brimming with talent and desperate to put in a convincing display on Tuesday night.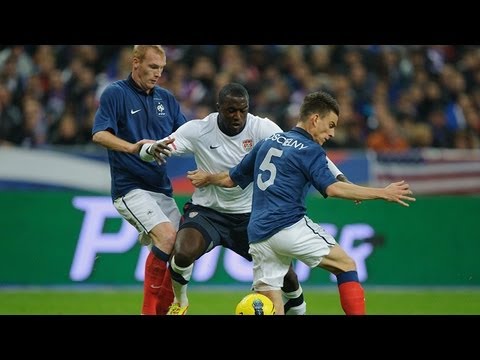 Jonathan Johnson is part of the trio behind the fantastic French Football Weekly - a foray into Ligue 1 and beyond. He is also Les Gossip columnist for Sky Sports. Find him on Twitter @Jon_LeGossip
Tagged Adil Rami, Belgium, Eden Hazard, France, Jeremy Mathieu, Laurent Koscielny, Les Bleus, Ligue 1, Lille, Maxime Gonalons, Olivier Giroud, Romania, Stade de France, USA