Belgian Legends – The 1986 World Cup Squad
var _gaq = _gaq || []; _gaq.push(['_setAccount', 'UA-26022117-1']); _gaq.push(['_trackPageview']);
(function() { var ga = document.createElement('script'); ga.type = 'text/javascript'; ga.async = true; ga.src = ('https:' == document.location.protocol ? 'https://ssl' : 'http://www') + '.google-analytics.com/ga.js'; var s = document.getElementsByTagName('script')[0]; s.parentNode.insertBefore(ga, s); })();
It was really difficult to pick which player to profile first here. So I've decided to go for a group instead. It's been 25 years since the best showing by Belgium in a World Cup, so it feels right to induct them first into this hall of fame style section. It was a campaign that started poorly before Belgium finally found their stride in the knockout stages – providing nerve-wracking moments for all the fans back home. This is their story.
Qualification
The Rode Duivels road to Mexico was a tough one. They were placed in UEFA Group 1, alongside Poland, Greece and Albania. Whilst only conceding three times in six group games,  Belgium's main problem in qualifying was finding the back of the net, only scoring seven times. One thing became crystal clear in qualifying though – an star was born in 18-year old Enzo Scifo, who scored his first international goal against Albania, after featuring in Euro 84.
The lack of goals proved to be Belgium's undoing, losing the group to Poland on goals scored. This put them in a playoff match against their neighbours, Holland. Leo Beenhakker's team featured talented prospects such as Ruud Gullit, Frank Rijkaard and Marco Van Basten, but were in a transition period having missed out on the last two international tournaments. Total Football was long gone but there were signs of a revival.
The first leg at Parc Astrid finished 1-0 to the Rode Duivels, a solitary goal from Franky Vercauteren proved enough and crucially meant no away goals for De Oranje. The return leg at De Kuip was a fiercely contested affair, with 55,000 warming up the Rotterdam stadium in sub-zero temperatures. The Dutch scored two goals in the second half, meaning Belgium only needed one to go through on away goals. The honour fell to defender Georges Grün, heading home with four minutes left, becoming a national hero overnight.
The Group Stage
The omens were good in 1986. Belgium had won Eurovision a month before the tournament with the song 'J'aime la vie', an appropriate song for the events about to occur in Mexico. Belgium came last in the contest the year before but that's more than enough about a singing contest that I'm not particularly fond of.
Guy Thys stuck with the experienced side that had done well for him since 1980, with a world-class backbone to the team. Eric Gerets and Jean-Marie Pfaff were the only two who didn't play their club football in Belgium, showing how highly the league was thought of at the time. Younger talent such as Scifo and Nico Claesen were rewarded for their performances in qualifying. The balance of the team felt right, particularly in the midfield which was dominated by Anderlecht players.
But Belgium faced a daunting opening task, playing the hosts at the Azteca. Just the 110,000 fans in attendance, home advantage, a returning Hugo Sanchez and the Mexico City altitude to worry about then. Add to that the fact that Mexico City had suffered an 8.1 magnitude earthquake eight months earlier, it was more than a football match for them. It was their prayers being answered, as Michael Caine puts it in the official film of the tournament 'Hero'. Belgium lost 2-1, mainly thanks to poor set-piece defending, but nothing could stop the spirit of the home nation, lifting the national depression in 90 minutes.
Next was rank outsiders Iraq, managed by Brazilian Evaristo. Anything but a trouncing would be unacceptable and it seemed early that Belgium would thrash the team considered the weakest at the tournament. A wonderful cross-field ball found Enzo Scifo who duly finished with aplomb. Claesen added another from the spot. But Iraq dug in, with typically un-Brazilian like tactics of hacking down their opposition. They picked up seven bookings and a red, but fought to a respectable 2-1 defeat.
The final group game was a mathematical nightmare, but a draw would see Belgium through as one of the best third placed teams. That's what happened with a 2-2 draw against Paraguay. Vercauteren opened the scoring with a looping shot he probably didn't mean before Cabanas equalised route one style. Belgium took the lead again thanks to a nicely executed shot over the Paraguayan keeper, from Waregem forward Daniel Veyt. The Hungarian referee then proved to be an Belgian adversary disallowing a fantastic Scifo free-kick, as it was indirect.
Belgium's shoddy defending cost them yet again and Cabanas scored another to send them to face England whilst Belgium would encounter the Soviet Union. Over to Martin Tyler (circa 1986) to show us the goals from Group B.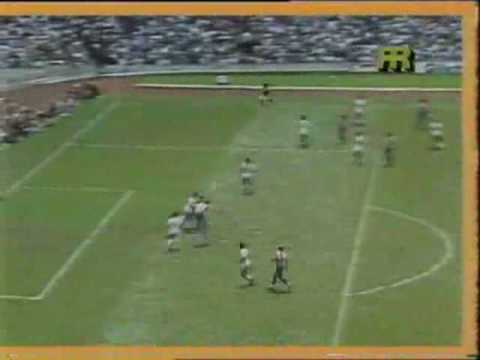 The Knockout Phase
The second round match against the Soviet Union provided an all-time classic. Seven members of the Dynamo Kyiv Cup Winners Cup team made the starting eleven and it was predicted that Pfaff would be in for a busy afternoon. It didn't take long for the Soviets to take the lead, a brilliant move thundered home by Ihor Belanov although aided by a game of Belgian musical statues. Enzo Scifo equalised just after the interval, magnificently controlling a cross and finishing. But it was Captain Courageous, Jan Ceulemans who gave away possession and was made to pay by Belanov, scoring his second of the afternoon. He redeemed himself seven minutes later putting the Belgians level again. He was offside, it doesn't matter.
Extra time began and the Soviets began to tire after a lightning start. Unmarked Stéphane Demol provided a bullet header from Gerets' cross to put the Belgians ahead for the first time in the tie. Nico Claesen sealed it with a sweetly-struck volley, which caused raptures from the Belgian fans. A minute later though, Belanov grabbed his hat-trick from the spot, meaning a nervy final few minutes. Coincidentally, Belanov is only one of three players to score a hat-trick at a World Cup and be on the losing side. Pfaff came to the rescue tipping over a chip from Evtushenko right at the end. Belgian had done it and were in the last 8 for the first time.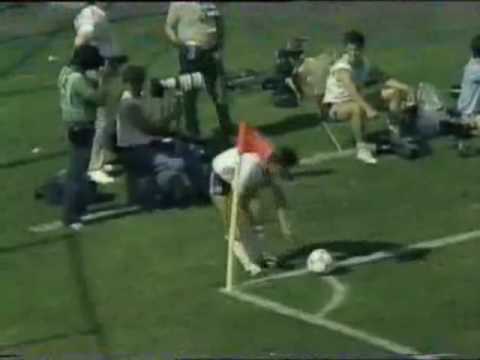 Their quarter-final opponents were Spain, who like Belgium were improving with every game of the tournament. This game was overlooked by the earlier game in which Maradona went down in history for the most notorious and the glorious moment in World Cup history. Belgium took the lead through Jan Ceulemans' stooping header. Spain's piled on the pressure throughout the game despite being behind and they drew level five minutes from time, Señor's edge of the area drive finding the net. Cue the penalty shootout and a cool masterclass from Guy Thys's team. They didn't miss one of them whereas Eloy was the unlucky man for Spain. The semi-finals beckoned but so did Maradona. Enjoy this – the pinnacle of 1980′s Frankie Goes To Hollywood rip-off penalty shootout music.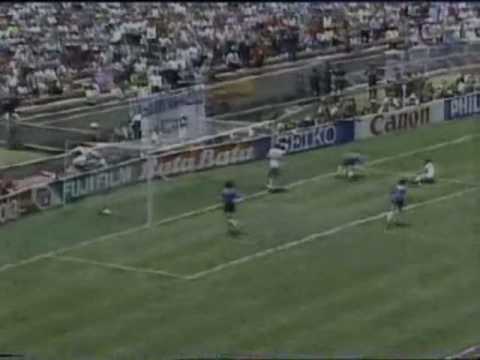 The Maradona Semi-Final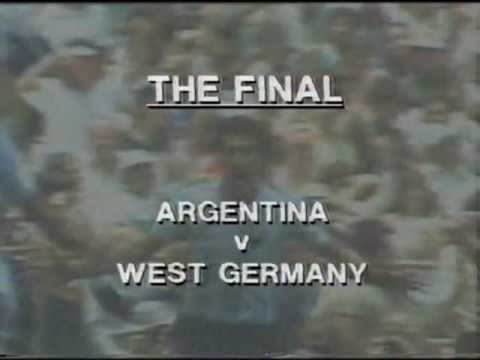 We all know what happens next. Belgium ran into Maradona. Off the back of his fine perfomance against England, he once again shone in the Azteca dismantling Belgium apart in a 12 minute period in the second half. Both goals were fine examples of his brilliance and his importance to that team, especially the second, where he waltzed through the defence. There is of course that picture of no less than six Belgium players looking on in awe at El Diego, and that's what this World Cup will be remembered for – one man's mission for World Cup glory. You could easily make a case saying he was the sole reason they lifted the World Cup.
As for Belgium, they were a class apart in this game but no disgrace in losing to the eventual winners. The great adventure was over. They'd gone from a stuttering start to an eventual fourth place, after losing to France.
Guy Thys had solidified his place amongst the greatest Belgian managers of all time. Many stars had been unearthed in the tournament, notably Enzo Scifo. Jan Ceulemans excelled as a midfield general, showing intelligence and an eye for goal. But most importantly, they'd won the hearts of both sides of Belgium. The Flemish and Waloon regions rejoiced together and had never really united until now. This clip shows the aftermath following their return from Mexico. A nation truly proud. Belgium 1986, welcome to the Legends Section.
Tagged Albania, Argentina, Belanov, Belgium, Enzo Scifo, Eric Gerets, football, Frank Rijkaard, Franky Vercauteren, Greece, Guy Thys, Holland, Hugo Broos, Iraq, Jan Ceulemans, Jean-Marie Pfaff, Maradona, Marco Van Basten, Mexico, Netherlands, Nico Claesen, Paraguay, Poland, Ruud Gullit, Soviet Union, Spain, total football, USSR, World Cup 1986